With my colleague Prof Franco Raimondi at Middlesex and colleagues Prof Ravinder Barn and Utsa Mukkerjee from social sciences at Royal Holloway, we did some twitter / machine learning based analysis on the broadcast of a BBC documentary called India's Daughter. The broadcast caused ructions in the twitter community exposing some tensions around post colonialism and the power of traditional media. The paper discusses some these tensions.
Abstract
The pervasiveness of social media has resulted in increased public involvement in key discussions about social issues, as well as creating greater affordances for individual expression and collective mobilisation. In December 2012, the rape and murder of a 23-year-old Indian student in New Delhi, India, was followed by widespread condemnation and public action organised and coordinated through social media (Barn 2013). In March 2015, a controversial BBC documentary, "India's Daughter", about the incident was broadcast despite restrictions imposed by the Indian Government. This paper explores the interplay between mainstream media (the so-called Fourth Estate) and Twitter through a case study analysis using computational techniques to analyse 250000 tweets collated following the broadcast of the documentary. In particular, we apply the theory of postcolonialism to understand the dynamics of this interaction. Issues around implications for conducting inter-disciplinary social media research are also discussed.
Keywords–Postcolonialism; India's Daughter; Fourth Estate; Social Network Analysis; Social Media; Twitter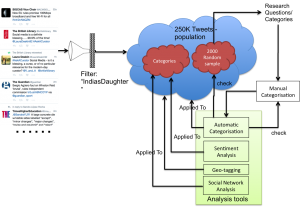 Full paper available at the Middlesex University Repository here.
The paper, presented at HUSO 2017 won a best paper award and was invited for journal submission which is currently underway.
I particularly enjoyed this paper and the reading around postcolonial theory. Interesting from a modelling perspective.